Customer, like a mussel, hides inside his shell when a noisy ad attacks, but may open up to a soft friendly offer.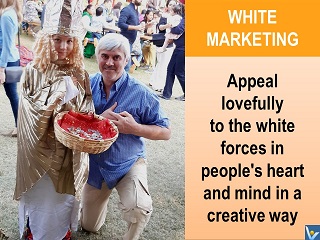 Customer Focus
Customer is not an object of marketing. Customer is the one who, if pleased, pays your salary, and, if excited, brings you joy and inspiration. >>>
Passion for customers is the first step – in the right direction! – in achieving your business goals.
Every company that wants to be successful must start with establishing the culture of → love for customers. The rest will follow.
To me, marketing is about appealing to the white forces in people's heart and mind in a creative way ‒ as soon as I can distinguish between white and dark fighters in my own heart and mind. Fortunately, they are easy to distinguish: the white fighters are those who are driven by unconditional love towards others.
Don't sell products, help your customers succeed and thrive.