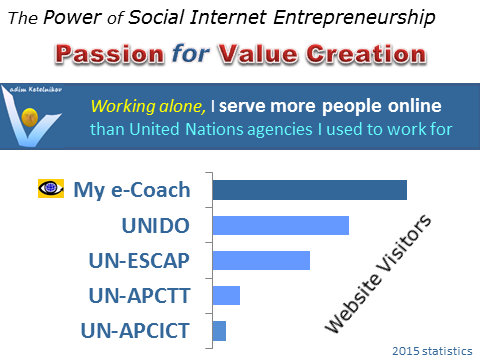 Yes, it looks abnormal that APCICT ‒ an agency that focuses on Information and Communication Technology ‒ creates the lowest
value online compared to other UN agencies I used to work for.
APCICT say they're trying to do better, and I believe that
they will ultimately be able to improve their results.
It all depends on the people involved.
How APCICT Could Improve Their Results
I know that
APCICT does want to create something valuable for their target countries.
Yet, they do it in quite a wrong way.
They collect information about the needs rather ineffectively
and afterwards they limit their feedback collection activities to
the meetings of country representatives only.
The result is quite obvious:
most target beneficiaries don't adopt the methodologies developed by APCICT because
their value proposition is too weak to overcome resistance to change.
APCICT could improve their results dramatically
by collecting more effective actionable recommendations
from the country representatives,
and
by beta testing their draft manuals online
to obtain feedback from real users.
Actually, any other United Nations development agency
can achieve much greater results
by using this simple and effective approach.
The Master Key to Success
Too many UN agencies focus on producing reports
instead of creating value, unfortunately.
I left my full-time UN job in 2004 when I realized that I can create
much more value for people around the world if I work alone.
The amazing results I achieved within three yeas are shown here >>>
My success secret is very simple:
I waste no time on reports,
I devote all my time to creating value,
Pre-APCICT work for United Nations Agencies
I worked as a consultant for various United Nations organizations from 1990 to 2004.
Then discovered that every person and every organization can achieve millions times more they think they can. I left UN and started my web-based Business e-Coaching venture to help fare more people and companies around the globe stretch and grow much faster and more innovatively.

'Thank-You' messages from all over the World

Cooperation

with UN-APCICT

I was quite surprised when the UN Asian and Pacific Centre for Information and Communication Technology (APCICT) approached me in 2013 and asked to become their consultant.

Actually, we target very different groups: I help disruptive innovators to change the world, while UN development projects focus on helping backward economies to do slightly better. Yet, I accepted the offer because the job APCICT asked me to do was aimed at helping millions of people. APCICT asked me develop two primers for developing Asia-Pacific countries:

I tried to adapt my proactive championship-focused approach to extremely moderate UN approach as far as possible, but the stretch proved to be too challenging for a UN organization, unfortunately.

Yet APCICT deserved a standing ovation because, at least, they tried to stretch themselves and their target beneficiaries.

My Personal Social Initiative

Though APCICT abandoned these two projects, I didn't. I kept developing free online resources "ICT for Entrepreneurship" and "ICT for SMEs"

to help

millions of students, would-be → entrepreneurs, including physically challenged youth, first-time entrepreneurs, internet entrepreneurs, including solo interpreneurs, and SME leaders grow and achieve great success in the challenging → modern economy.