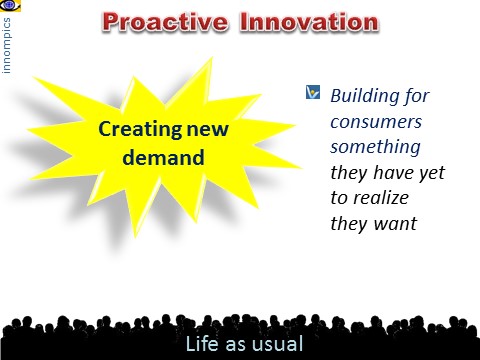 Proactive innovators are thought leaders; they overturn the conventions of a market before others do
Reactive Innovators strive to catch up with the leaders
by inventing modifications.
Two Parts of a Disruptive Innovation Process
❶ Create a radically → innovative value consumers have yet to realize they want;
❷ Create and shape demand for it.
They create new customer needs and develop solutions that allow them to meet future demand rapidly and effectively.

They anticipate opportunities that are likely to emerge in the future – or create them – and focus their innovation program accordingly.

The companies employing a proactive innovation strategy are trend setters.

They → surprise others and are at the fore in their respective industries.

They create radically new value and are the first to identify and pursue spin-off high-value → opportunities.

They take risk, treat failures as stepping stones to success, → learn from feedback and adapt their strategies accordingly.
It took a while however to help people understand that annual Innompic Games is what they deeply need and assemble the critical mass of strategic global partners to conduct the 1st Innompic Games in 2017.... More