Increasing the chances of a breakthrough innovation/change/marketing project for success >>>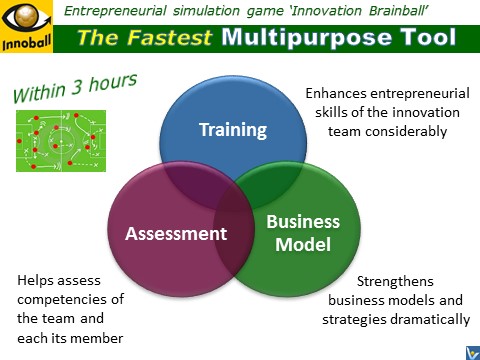 General Benefits

Specific Benefits

Turn Ideas / Inventions into a Profitable Business

Create New Markets

Develop Breakthrough Strategies

Train an Innovation Team >>>

Build both Individual Creativity and Intellectual Teamwork >>>

Learn to Anticipate Problems and Solve them Creatively

Assess Entrepreneurial Smartness of a Team >>>

Develop a Winning Business Model

Persuade Venture Capitalists to Invest >>>

Implement Radical Change

Make Wiser Investment Decisions

Innoball helps strengthen
‒ dramatically! ‒
your innovation team, business model
sustainable competitive advantage and business strategies
‒ all within few hours

Success Story
Innovation Football game helped a large trainee company
strengthen its innovation team and business model,
save US$ 2.5 million thanks to avoiding costly mistakes, and
reduce time to market by 18 months

Innovation Brainball (Innoball) is a breakthrough simulation game that helps disruptive innopreneurs create breakthrough innovations, develop stronger business models and entrepreneurial strategies, train the team and evaluate the strength of the team and each its member. >>>

Team members learn to think strategically,
solve problems creatively, turn problems to opportunities,
anticipate opponents' moves, improvise, think as a team,
build on each other's and synergize ideas.

Kore 10 Innovative Thinking Tools are used by both innopreneurs and their opponents to to manage the ideation process and simulate creative moves

A simulation game helps innopreneurs develop better strategies,
solve problems creatively and anticipate opponents' moves

A choice of techniques for fast evaluation of innovative ideas will help team leaders make strategic decision quickly and effectively

Innovation Football makes you think for your opponents
and, ultimately, turn this thinking into a winning habit.
When Innoball is used to strengthen a real venture and increase its chances for success, it's far more beneficial to play the game twice, on Day 1 and Day 2.
While team members relax after the Day 1, their → subconscious mind doesn't. It keeps ideating on autopilot, especially while people are sleeping. As a result, most people come next day with advanced ideas, and the second Innoball game gives further boost to the project.